A People's History of London - Lindsey German and John Rees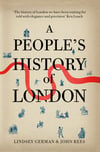 Hub of empire, world port and seat of government, London has a political history that is nevertheless entwined with the lives of its people, a multitude often dismissed throughout the centuries as a mob. This gripping new counter-history reveals how London's poor and its immigrant population have shaped its history and identity over the ages: from apprentices closing the city gates on Charles I in the 1640s to modern fights against fascism and racism in Cable Street and Notting Hill.
A PEOPLE'S HISTORY OF LONDON takes us into an unofficial, half-hidden and often undocumented world, a city rarely glimpsed: of pamphleteers, agitators, exiles, demonstrations and riots; the city of Wat Tyler, Marx and Engels, Garibaldi and Gandhi; and the countless pubs, theaters, coffee-houses and meeting-places in which radical ideas have been nurtured and revolutions planned.
The history of London we have been waiting for, told with elegance and precision. --Ken Loach
Those who continue to uphold London's living traditions of protest will be able to take heart from this fresh and welcome look at the city's history. --Guardian
A timely reminder that there is a very different side to London, every bit as energetic and exciting in its way. --Scotsman