The ABC of Socialism - John Rees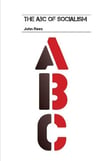 Millions of people want a better society - but how would it work and how can we get it?
This book explains what socialism would be like and where socialists stand on trade unions, racism and fascism, women's and gay liberation, the state, internationalism and much more.
It reveals a genuine socialism, fiercely opposed not only to the Tories' market madness but also to the neoliberal policies of the modern Labour Party. A socialism from below, built by working people.