Capitalism and Class Consciousness: The Ideas of Georg Lukacs - Chris Nineham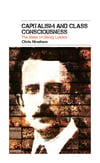 Georg Lukács was the great theorist of revolution in the 20th century. In the process of explaining the principles of the Russian revolution he provided answers to some vital questions: How do capitalist ideas maintain a hold on our consciousness? In what circumstances do people become radicalised? And how can socialists build genuinely mass revolutionary movements?
Lukács' revolutionary ideas of the 1920s were suppressed by Stalin and have been marginalised by academics and even many on the left. They have lived a kind of underground existence re-emerging whenever fundamental change is being discussed. The book introduces his ideas and argues they are vital to our world of crisis and war.