Class: Money and Power in Neoliberal Britain - Lindsey German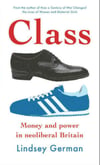 In this incisive analysis, Lindsey German sets out how record levels of inequality are now the reality for many working-class people in Britain today. Examining resistance to neoliberalism and the relationship of oppression to class, she argues that if we are to change this, both new forms of organising and the united front are central. An indispensable guide for all those involved in the movements, Class shows how socialist organisation is essential for the struggle today.
Lindsey German is national convenor of the Stop the War Coalition and helped organised the largest demonstration in British history against the Iraq war. Her books include Material Girls, A People's History of London (with John Rees) and How a Century of War Changed the Lives of Women.