Percy Bysshe Shelley, Poet and Revolutionary - Jacqueline Mulhallen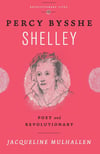 Today, Percy Bysshe Shelley has memorials in Poet's Corner in Westminster Abbey and at Oxford University. Most famous for poems such as 'To A Skylark', 'Ozymandias' and 'The Mask of Anarchy', he is considered a major Romantic poet with important new editions of his work currently being produced. But this was not always the case. During his short and tragic life he was regarded with loathing as an immoral atheist and his work received damning reviews as a result.
His was a story of extremes – the radical nature of his convictions was astounding since he was the son of a wealthy landowner and set to become a Whig MP. A focus on his belief in sexual freedom and vegetarianism often eclipses his informed internationalist and revolutionary politics. Although he wrote when the working class was in its infancy, he clearly grasped how workers – and women – were oppressed.
Admired by Oscar Wilde, Thomas Hardy, W. B. Yeats and Karl Marx, Shelley's legacy remains with us today – his words have been used by popular movements from the Chartists and the Suffragettes to Tiananmen Square, the Poll Tax protesters and modern Greek solidarity movements.
This new biography by playwright and activist Jacqueline Mulhallen will emphasise the political, revolutionary side of Shelley's life and will be a valuable contribution to the existing literature on this important artist.
'Humankind needed Shelley back then, and this book reminds us of how much we need him now. It is an honest look at a truly revolutionary life' (Benjamin Zephaniah)
'A compelling and eye-opening study, thoroughly researched and engagingly written. Reminds us of Shelley's robust socio-political vision, that remains as relevant and vital for our own volatile times as it was for his some two centuries ago.' (Stephen C. Behrendt; George Holmes Distinguished Professor of English, University of Nebraska)
'Fresh, clear and compelling, this is the best compact account of Percy Bysshe Shelley's revolutionary life currently available.' (Nicholas Roe, Professor of English Literature at the University of St Andrews)
'Highly readable, this is an absorbing study of Shelley's life, thought, and writing. Jacqueline Mulhallen has written a valuable book.' (Michael O'Neill, Professor of English, Durham University)
'A fresh and impassioned account of the significance of Shelley's radical life and writings. A fine and highly readable achievement.' (Michael Rossington, Professor of Romantic Literature, Newcastle University)