Socialist Explainers: Short Answers to Big Questions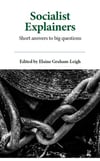 We live in a world where capitalist ideas are dominant. The thoughts of the ruling class are dominant ideas in society, but when we come together, our collective experience can begin to show us that an alternative is possible. Over more than two hundred years, socialist theory has grown through the work of activists criticising, analysing and organising to lay bare the realities of capitalism and how we can work for change.
In this collection of socialist explainers, we're giving quick responses to the questions that loom largest for us today, from oppression to the climate crisis, from the economics of capitalism to NHS funding, from trade-union struggle to socialist organising. Whether you're new to the movement or a veteran activist, you'll find here the answers you've always wanted to know but were afraid to ask.