Sound System - Dave Randall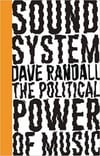 Musicians have often wanted to change the world, and many - from underground grime artists to mainstream pop icons - channel that desire through the political power of music. Music has a unique ability to unsettle the most fundamental political and social conventions - or, alternatively, to stabilize the status-quo.
Sound System is the story of one musician's journey to discover what exactly makes music so powerful. Years of touring, protesting, and performing have given Dave Randall an insider's view of the music industry, enabling him to shed light on the most tightly held secrets of celebrity, commodification, and culture. He finds remarkable examples of music as a force of social change as well as something that has been used to keep people in their place throughout history. From the Glastonbury Festival to the Arab Spring, Pop Idol to the Trinidadian Carnival, Randall finds political inspiration across the musical spectrum.
A blistering, intelligent polemic about the political power of music, Sound System investigates the raves, riots, and revolution of contemporary culture to answer the question - how can we make music serve the interest of the many, rather than the few?
'A deeply intelligent look at music and society. Thought-provoking, readable and clever.' Mark Radcliffe, BBC Radio 2 and 6 Music
'A terrific, exciting book, weaving together music, politics and worldwide struggles.' Yasmin Alibhai-Brown, writer and journalist
'A thrilling trip through the dark corners and secret gardens of the music world.' Maxi Jazz, lead vocalist for Faithless