The Leveller Revolution - John Rees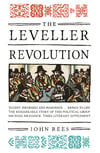 The Levellers, revolutionaries that grew out of the explosive tumults of 1642 and the battlefields of the Civil War, are central figures in the history of democracy. In this thrilling narrative John Rees brings to life the men - including John Lilburne, Richard Overton, Thomas Rainsborough - and women who ensured victory at war, and brought England to the edge of radical republicanism.
From the raucous streets of London and the clattering printers workshops that stoked the uprising, to the rank and file of the New Model Army and the furious Putney debates where Lilburne argued with Oliver Cromwell for the future of English democracy, this story reasserts the revolutionary nature of the 1642-48 wars, and the role of ordinary people in this pivotal moment in history. The legacy of the Levellers can be found in the founding ideas of the American Revolution as well as in the strugglers for freedom and democracy across the world.
'A profound and scholarly account of the Levellers - the nonconformist republican radicals who clashed first with the monarch and then with Oliver Cromwell himself. The book combines the military-political history of the English revolution with an account of the social and ideological struggles that produced, out of the backstreets of 17th-century London, one of modernity's first revolutionary social movements.' --Paul Mason, Guardian Books of the Year 2016
'Rees likes his subjects, as should anyone who values democracy and social justice. This is not just a readable narrative, explaining the development of the Levellers, but an inspirational romance for the political left, and a timely one. It's a remarkable story because its actors are remarkable.' --Malcolm Gaskill, Financial Times
'A fast-paced and tightly focused narrative which puts the Levellers centre stage in the English Revolution; essential reading for all those interested in history and radical politics' --Ariel Hessayon, Goldsmiths University of London